Building Wealth By Doing Nothing: Investing 101
11
11 people viewed this event.
The Studio at TFD Presents: Building Wealth By Doing Nothing: Investing 101, an e-course to help you build wealth through investing.
About this Event
In this 4-week intensive course with TFD's resident investing expert Amanda Holden, students will learn everything they need to know about building a diversified, profitable portfolio from the ground up, or fine-tuning and optimizing their current investment strategy, so that they can set up a lifelong wealth-building plan that takes up very little energy. Following the success of Amanda's popular investing e-course, she is now offering the rare opportunity to learn through a real-time (virtual) classroom environment, giving you the hands-on, experience-based advice you need, plus plenty of time to have your personal investing questions answered.
Each 2-hour class will feature 90 minutes of step-by-step instruction from Amanda, followed by 30 minutes of live Q&A. Students will also be given exercises at the end of each class so they can work out their own sustainable investment strategies with the tools they've learned through Amanda's instruction. They will also have access to two 45-minute "office hours" with Amanda, plus a dedicated Slack channel for community-based feedback, networking, and bonding.

You want to be certain you're doing the right thing for your future
That finance book is collecting dust on your nightstand, and know there's a better way to learn
You're a beginning or mid-level investor (there's lots to learn for people of all levels)
You want to feel completely confident in your ability to navigate retirement + building wealth
You thrive in a classroom-style environment
Showing up with a live teacher is the best way for you to learn
You want to feel like a confident, investing badass
You have a handle on saving and debt repayment — but want to know how to take your financial life to the next level
You're tired of feeling confused by terms like index funds, ETFs, asset allocation, stocks, bonds, volatility, REITs, 401ks, and Roth IRAs
You want to laugh while learning something valuable!
Class Dates:
4- week course:
Tuesday, June 15, 2021 – 6:30pm – 8:30pm (EST)
Tuesday, June 22, 2021 – 6:30pm – 8:30pm (EST)
Tuesday, June 29, 2021 – 6:30pm – 8:30pm (EST)
Tuesday, July 6, 2021 – 6:30pm – 8:30pm (EST)
Office hours:
Thursday, June 17, 2021
Thursday, July 1, 2021
Class Breakdown:
Class 1: Why You Need to Invest + Investment Accounts
Let's get hyped and talk about all the reasons we need to be investing. We'll cover inflation, compound returns, understanding retirement, and treating your Future Self like the queen she is.
This class will be fully dedicated to choosing an investment account. There's nothing we get asked about more! This will include a discussion of retirement accounts, taxation, brokerage accounts, and what to do with old accounts.
Class 2: Investing Foundations: Stocks, Bonds, Funds, and How Markets Work
Here we will get a lay of the investing land. You can't pick investments, or an investment strategy, without understanding the foundations of investing. In addition to the investment types, we will cover the basics of risk tolerance, building a portfolio using your goals as a guide, and how to handle volatility.
This class will be fun, theoretical, and not to be missed!
Class 3: Picking an Investment Strategy and Building a Portfolio
In this lesson, we will take what we learned in the second lesson and dive into our options for picking investments and building a portfolio. This includes a discussion of DIY options and options that offer a bit more hand-holding, like automated investment services.
We will discuss picking stocks, index funds, target-date funds, and robo-advisors.
Much of the question of which strategy to choose will depend on your desired level of involvement and fees. We'll cover both so you can make the choice that feels best for you. (The great news? There are lots of easy and affordable ways for all of us to get invested. You just need to pick one!)
This lesson will include information for those looking to optimize investments within their 401k/workplace plan AND for those doing it all on their own.
Class 4: Fine-Tuning Your Strategy, Upkeep, and Tips for Maximum Success
The last lesson in the course will wrap everything we learned up in a bow. Here, we will discuss how to fine-tune your strategy to reflect your values, including a discussion on cryptocurrency, ethical investing, and additional investing categories, like real estate.
Last, Amanda will leave you with tips on maintaining your strategy over time. This includes some tips on rebalancing, staying on course when things get tough, and how to avoid the worst scams in the financial services industry. (Of which there are many.)

Reasons why you need to invest (compound returns, inflation, and more)
The best accounts to pick for your financial situation
How to pick a bank or investing platform (Yes! We will talk about Robinhood)
Understand the most important tools for building wealth
Learn — and understand deeply — the most important investing concepts, like stocks, bonds, funds, target-date funds, and more
Why the market crashes — and what to do when it does
Understand all of the insidious ways you're being charged fees—and how to avoid them
How to protect yourself in an industry where not everyone has your best interest in mind
Deep dive into "alternative" investing categories like cryptocurrency and gold
How to invest in real estate without owning a property
Socially responsible investing — what is it and how to do it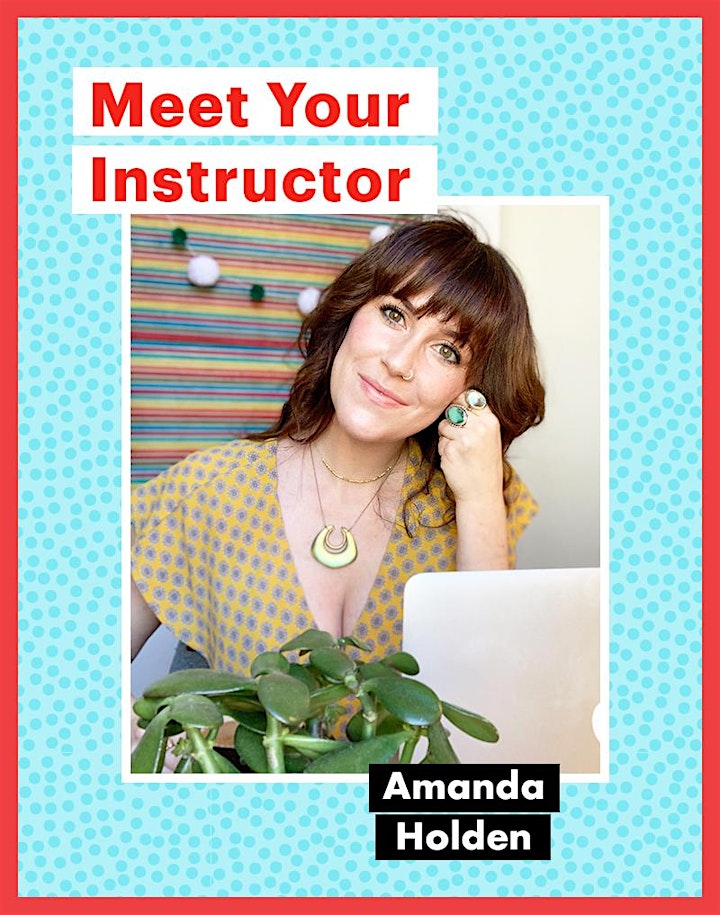 Amanda Holden's Bio:
Amanda Holden is an award-winning money writer, speaker, and educator. Through her business, Invested Development, Amanda has taught thousands of women to invest. Using her unique mix of comedy and relatability, she shows her students — often for the first time ever! — that building wealth is within their capacity. Amanda also writes a women + money blog called The Dumpster Dog Blog and does tons of free investing education over on her Instagram. (And also shares the occasional #TRASHION outfit!!)
Testimonials:
"I absolutely loved Amanda Holden's presentation. I learned so much and could not stop laughing! As soon as I left my room my roommates had to ask me how learning about finance could be so fun and I said it's because of Amanda! Would love to attend future collaborations between you two again. " – Meredith
"I've followed TFD for a few years now on social media and have always loved what they done. I recently discovered Amanda, and this workshop was fantastic! I am so happy I attended. I've gone to several free workshops to learn about investing, but the extra step she took to show us what it looks on the website, how to do the research, was extremely helpful. In fact, it motivated me to make changes the day after–and I did some more today! Thank you so much!" – Jessica
"Amanda is super engaging and thorough, easily one of the best speakers encountered. This workshop was excellent for me as a complete beginner because it consolidated so much at a manageable pace, and the info given made me feel like I was learning (not too technical, but not too simple). The vibe was inclusive and makes the world of investing feel more accessible for a young woman like me. This was waaaay better for me than trying to find a bunch of intro investing youtube videos and articles. Now I can go research based on what I just learned. Truly a great time! Thank you TFD and Amanda, y'all's work is helping change lives. I'm recommending these to all my friends." – Aleydis

Can people outside of the US take this course?
All are welcome to take the course, but it is designed for people in the US. You can't talk about making money without talking about taxes, which are always country-specific.
That said, taxation really comes into play in just one lesson—the lesson on account types, like Roth IRAs and 401ks. But account types are a small piece of learning to invest!
While investing theory is universal, you will have to translate the lessons to the tools you have available where you are.
Is this for people who already have a retirement account (401k, etc) at work?
Yes! Having a 401k is a great start, but you actually need to know how to use it. Here are some of the common questions about workplace retirement accounts we'll answer:
What is a 401k? What are the benefits?
Am I choosing the right investments?
Am I getting scammed with fees?
Is there a better alternative for me?
Should I be considering doing something in addition to a 401k?
Is this course for someone that is self-employed?
Yes! We will talk about the best options available for self-employed folks, entrepreneurs, small business owners, and freelancers.
How much does this course cost?
This course is $199 for the 4-week program and two office hours. You will have unlimited access to the recordings for 12 months starting the last day of class.
If you have any additional questions, please email us at events@thefinancialdiet.com.
Do you accept refunds?
Due to the exclusive nature of this course, all sales are final and non-refundable. If needed, we may be able to accommodate moving you to a different session, pending availability.
If you have any questions on deciding if this course is for you, please email us at events@thefinanicaldiet.com and we would be happy to help.
How long will I have access to this course?
You will have unlimited access to the full course content for a full year starting the last day of class.
What happens after I purchase this course?
After you purchase, you will be sent a confirmation email from Eventbrite. One week before your course begins, you will receive a welcome email with the full syllabus, workbook, and instructions on accessing the course.
The day after the last class, you will receive a wrap-up email with instructions on accessing the course materials.
When will the full course outline be announced?
The full course outline will be announced in May.
Are you offering a scholarship program for this course?
Yes. We will be offering one full scholarship. If you would like to apply, please send an email to events@thefinancialdiet.com, titled "Investing 101 Scholarship Application," telling us about why this scholarship is important to you and what you plan to do with the knowledge and practical skills you gain from this course.
The scholarship recipient will be notified the week of May 17th!